This Site Is A Work In Progress!

"What can I tell you buddy. Take it up with Consumer Affairs..."

"We ask that you please bear with us!"

(Last update: February, 2019)
Implementing a Content Management System (CMS)...
I will be selecting a new CMS, probably WordPress with an appropriate theme. Still wading through all the choices, whew.
Apps
EQTrace (v1.0.0.0)
The EQTrace app is currently available as a Windows 10 Progressive Web Application (PWA) in the Microsoft Store. Click the link below to go to its Store location, then click the Install button to download.
You can then access EQTrace like any other Microsoft app by clicking the app icon

on your desktop or launching it from the Windows 10 Start menu. The initial screen appears; simply click the Query magnifying glass icon to bring up the Query screen, enter your parameters, and retrieve the results.
Although there is no official version in the Google Play Store, you can install EQTrace on Android OS devices (like a Samsung Galaxy phone) by visiting the EQTrace web site at: www.pnautilus.net/apps/EQTrace
You will get a prompt to begin the download/installation process; clicking the EQTrace icon on your device launches the app: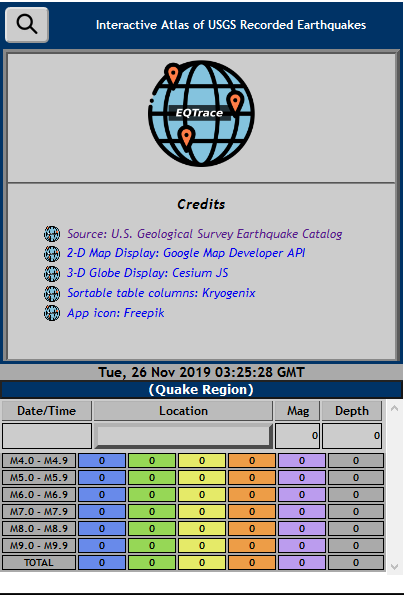 To meet the PWA standard, I'm using Google Lighthouse to generate a site evaluation.
Feature List

Retrieves earthquake data from the United States Geological Survey (USGS) earthquake catalog following their public API

Displays all earthquakes that meet specified criteria on a 2D Google map or a 3D Cesium globe, using standard balloon markers and supplemental details.

A query menu allows selection by date/time, magnitude, depth, and geographic location.

Displays data either statically or dynamically, using a built-in simulator to display results chronologically.

Documentation (including Screen shots)
Google Lighthouse rates multiple aspects of the App, with suggestions for improvement.
EuroWars (v0.1)
The EuroWars web App is currently under development in Version 0.
Feature List

Presents a map-based display showing all wars occurring in Europe and the Middle East between the years A.D. 1000 and A.D. 1700

A query menu allows selection by Conflict (e.g., Hundred Years War, Italian Wars), by date range, or by keyword (e.g., Constantinople, ).

A detailed series of over two hundred stylized overlays showing historical countries and their boundaries in vector graphics format for context

Hundreds of historical battle locations, ranked by population size and importance.

Details on each overall major Conflict, and the events (battles, sieges) comprising them. There are approximately 1400 events in the EuroWars database.

Documentation (including Screen shots)
---